Academic Vocabulary List 1
Alphabetical list of words and meanings
| | |
| --- | --- |
| Word | Definition, meaning |
| alley | a narrow passageway or street |
| appetite | desire to eat |
| boast | brag; say great things about yourself |
| cattle | a general name for "cows" |
| drudgery | hard, uninteresting labor |
| dull | boring, not exciting; not bright or sharp |
| entirely | on the whole |
| gigantic | huge, large, enormous |
| goofy | funny, silly |
| hatch | break out of an egg |
| naked | without covering or clothing |
| outraged | upset, very mad |
| outskirts | the suburbs, area around a city |
| peddler | someone who sells things |
| portion | small part or section |
| roam | wander, walk around without direction |
| slim | skinny; thin |
| struggle | have difficulty doing something; fight |
| swell | get bigger, enlarge |
| upgrade | improve the quality of something |
Note: These are general meanings for the words. You may encounter other definitions depending on context.
Check a dictionary for other meanings.
Audio - Click to Play
Related Items
Other Topics
Statistics
We have 2 guests online
News: 435
Visitors: 4984364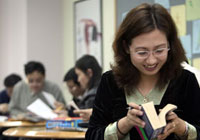 Comments
(8)
words
written by fahim, September 04, 2009
...
written by Tomoko, September 07, 2009
...
written by thatchanesh, September 26, 2009
Thank you!
written by Sarah, February 15, 2010
newcomer
written by Lamkbin, April 17, 2010
how many time
written by replica watches, May 23, 2010
Bright Site
written by Manohar Mane, June 12, 2010
Amazing site
written by Rashmi, June 13, 2010
Write comment