Talking about Family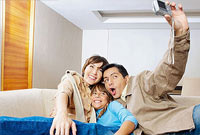 Introducing your family
This is my mother/mom.
This is my father/dad.
(These are my parents)
This is my wife.
This is my husband.
There are five people in my family.
(My mother, my father, my older brother, my older sister, me, my younger brother.)
I have two brothers.
One is older.
One brother is older (than me).
One is younger.
I have one sister.
I'm number three.
Asking about family
How many brothers and sisters do you have?
What number are you?
He's the oldest (of five children).
She's the youngest.
Cindy doesn't have any brothers or sisters.
Jared is an only child.
How many children do you have?
We have two. One son and one daughter.
Do you have any kids?
No, I'm not married.
Audio - Click to Play
Related Items
Other Topics
Statistics
We have 44 guests online
News: 435
Visitors: 10068261
Comments
(7)
...
written by ariadne, October 02, 2009
...
written by Raza Ali, March 02, 2010
...
written by hassan, March 07, 2010
I Like This Website
written by maylay, April 04, 2010
...
written by t, April 16, 2010
...
written by Asad, January 30, 2013
hi
written by abdul, November 24, 2013
Write comment
www.free-english-study.com © 2007. All right reserved.
Designed by Nguyen Ngoc Tien